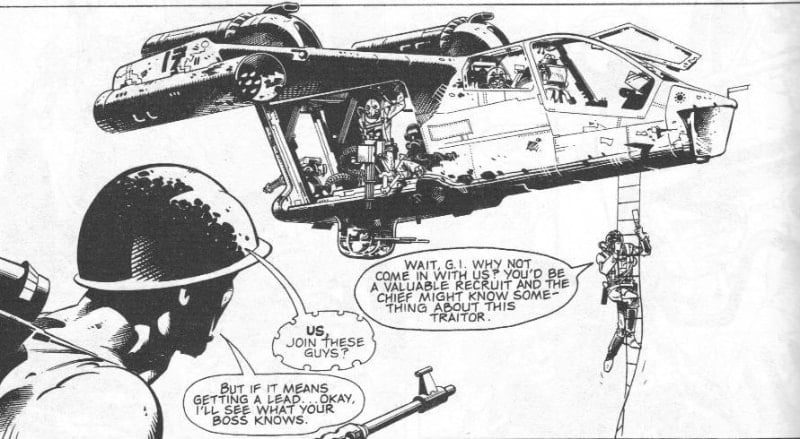 Colin Wilson – More than black and white
It was probably 200AD. Actually, is was 2000AD. An early high-school friend had a properly large stash of them that I begged to borrow, and occasionally he'd let me take one or two; he was pretty uptight about them which was strange, considering they were kept under the house in the open air…
When it came to available comics at the time, 2000AD was a breath of fresh air from the typical American superhero world. Within its weekly pages were oddball heroes, or anti heroes as was often the case, set in futures so different and diverse, one wondered how it all coexisted in the same space; Judge Dredd, Strontium Dog, ABC Warriors, the list of now legendary characters goes on. For me though, one stood out above all others – Rogue Trooper; the blue, genetically engineered super soldier who could survive bare chested in Nuearth's chemical warfare hell. But it was not the story line that worked for me (which was often a little too similar to the good Brits vs. the 'bad' Germans), it was the artwork. More specifically, it was the artwork of one man above all (because 2000AD often had multiple artists working on the same series) that grabbed me every single time…
2000 AD's Rogue Trooper
In the world of comics, New Zealand born Colin Wilson is a name many may recognise, having penned for the likes of Judge Dredd, Star Wars, Gears of War and the legendary French western series 'Blueberry'. But in the the early 80's, he was one among many at 2000AD (who went on to bigger things) cutting their chops in the early part of their comic illustration careers.
Gears of War. Colour by Wes Hartman
Black and white artwork, not to be confused with greyscale, besides being one of the oldest in terms of reproduction art, has always been an interesting medium. In many ways far more nuanced than working with colour, achieving subtly in a medium that is very 'on/off'… black/white, is a unique skill and doing so in a way that is instantly recognisable, a true skill. As the bulk of 2000AD was black and white, there was always a wide range of styles on display but for some reason, Wilson's work reached off the page and pulled me in. So much so that if Rogue Trooper was not penned by him, I generally didn't read it! Yea, I know…..
'Battler Britton'
And this is where I'd say something like – 'I am not sure why Wilson's work was so attractive to me'… but I'm not.
Because I know exactly why.

'The Losers'
More than any other comic artist I have seen working in black and white, Wilson has a sharp draftsman like quality with unusually thin, very clean detail line work, mixed with far bolder strokes. He then manages to merge this with am energetic drawing style; similar in many ways to Roy Huxely. With an almost graphic style which balances strong use of negative space with composition, Wilson's panels are dynamic pieces of art. Add to this his outstanding eye in designing and drawing realistic hardware and environments, and Wilson brings something very unique to the genre.
"no one … draws near-future military hardware like him"
In 1988, Wilson released 'Rael: Into the Shadow of the Sun', the first of what was meant to be a three part series. Written and illustrated by Wilson, with subtle colouring by Janel Gale (with whom he has worked on numerous titles), Rael is a outstanding display of Wilson's skills both as an illustrator and as a writer. Unfortunately, the series never progressed past the first book and it vanished into the depths of comic book history. You can still find Into the Shadow of the Sun for sale on the likes of Amazon.
Rael, page after page of Wilson goodness.
As anybody who has any sort of ambition to be creative in some way will tell you, your influences change over time as you yourself grow into who 'you' are. While that may be true, and these days I look towards the highly expressive work of illustrators such as Makato Koboyashi and Tstomu Nihei, Colin Wilson is still an anchor point for me and his style and influence, from the time of those first 2000AD's to today, still is as gripping as it always has been.
Blueberry
[love_me]
Copyright 2023 Gerard Thomas. All rights reserved.