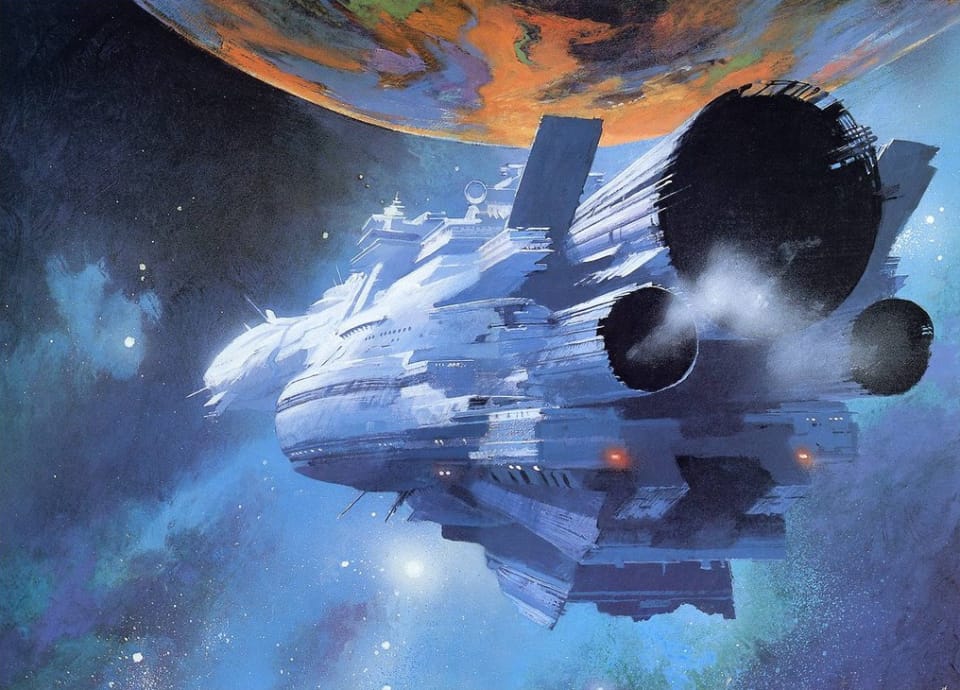 I remember first seeing John Harris's images in an issue of Omni magazine, that seminal magazine that was a celebration of all things futuristic. The images were unlike anything being done at the time– expressionistic, expansive, raw. Before my dad decided to turf the collection, I went and cut the images out and kept them in a folder, just to save them.
It was not until years, decades actually, later that I rediscovered Harris's art and I promptly went out and grabbed his books; which, if you are wondering, are very, very much worth it.
An image that was hard to forget. Nice and big so you get the idea!
But this is bit is not about reviewing Harris' art, or books. It's about an interview with him I finally got around to watching, after finding out about around six months ago…
Quite often when you read, or watch, interviews with artists, they will talk about their techniques, backgrounds and their motivations. If it's an artist you really like, you'll find what they say interesting, as there's always some form of take away that comes from a good interview. 'Beyond The Horizon – The Art of john Harris', for me was different. Very different.
I could go on and on about what resonated with me while watching this, but honestly that would dilute it. And I'm not putting this here as some form of epiphany. But if you like thinking about things far beyond our own small mortal concerns, and you like science fiction art, this is a short film well worth your watching.
Beyond The Horizon – The Art of John Harris from Magenta Films on Vimeo.
[love_me]
Copyright 2023 Gerard Thomas. All rights reserved.