Kow Yokoyama: Ma.K. Sketchbook
I've been on a bit of a roll lately with various things and perhaps most intriguingly, they have all been interconnected. It started with a thought I had about the state of design in science fiction, which then rolled into a bit I wrote about the tools of the trade. And smack bang in the middle of the two, was rediscovering Maschinen Krieger, which lead to a whole bunch of other stuff. Which leads us to here, my review of a well out of publication book.
In my wild quest to learn as much as I could about Kow Yokoyama, the creator of Maschinen Krieger a.k.a Ma.K., I discovered his 2006 book 'Kow Yokoyama: Ma.K. Sketchbook'. The excitement was relatively short lived though as finding the book is akin to finding hen's teeth and when you do, it's insanely expensive if the book is in anything like good condition – we're talking between US$150-250… sometimes more. Well, forget that! One though has to love eBay and people that don't quite know what they have, which saw me nabbing the book for $25! I didn't care too much about the condition to be honest, it was the content I was after, so $25 seemed very reasonable for an old book advertised as used… that I only wanted for reference. What turned up was a book that for all intents and purposed is new, so this was the score of the century.
You can read a bit about why I was so engaged with Yokoyama's work in my post about tools. Fnding images to study online though is difficult at best, probably due to the age of the work, and that most publications featuring it were never translated from Japanese, hence were in very limited release outside of Japan. So to have Yokoyama's book on hand when I want to reference, is a very nice thing indeed.
Weighing in at over 200 pages long, in an almost A4 format (28.4 x 21.8), the book is in broken down into 5 main chapters covering his work on Maschinen Krieger, the most recognisable for me, Mars Troops, Zoids, and a collection of his personal sketches which are more than interesting enough. Black and white all the way through, there are only a few colour plates at the start but this in no way detracts from the quality of the work; being a 'sketchbook', most of the work I imagine would only have been black and white anyway and the colour plates do seem to be sketches reworked with colour.
Perhaps the most stimulating aspect of the book is that it is a 'real' sketchbook, not a collection of finished and polished illustrations. As a mixture of rough scribbles, through to more finished sketch pieces, one can see the spontaneity of the thinking, which is what sketching is all about. Even the more refined sketches retain a casualness that people seem scared of displaying these days, as if everything has to be finished or perfect; and the pen on paper aspect is reflected in the line work – as much as I like digital tools, I find the expression in the line work 'uniform' across the spectrum of artists using them.   Yokoyama's sketchbook reflects a distinctive style and stance that is so difficult to find these days, and though the work is up to three decades old in places, it's more than refreshing if you like scifi hardware and design sketching.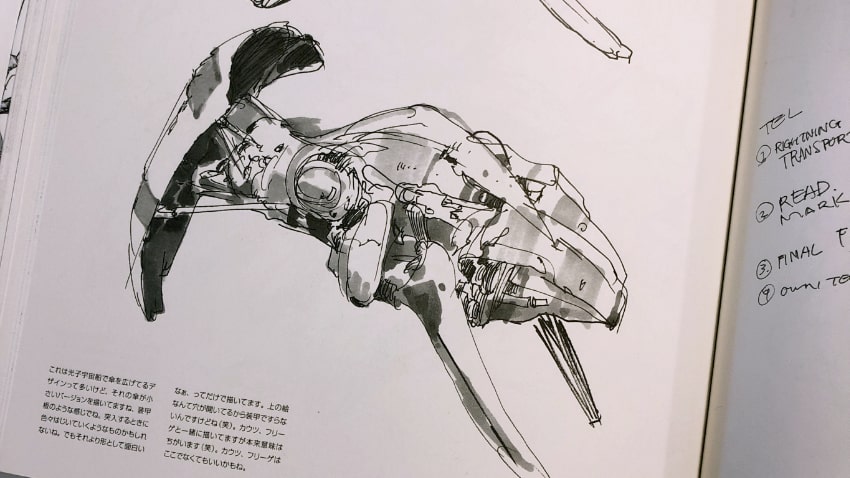 The only minor downside is that the book is entirely in Japanese, so reading any of the descriptor text etc. is completely out of the question, for me at least.
Kow Yokoyama: Ma.K. Sketchbook is going to take a fairly prominent position in my collection, if for nothing more than it's an outstanding testament to the notion that design in science fiction, as well as drawing and sketching style, does not need to follow the latest trend to be outstanding or long-lasting. If you like this sort of thing, I highly recommend grabbing a copy if you can find one at the right price.
[love_me]
Copyright 2023 Gerard Thomas. All rights reserved.