Ral Partha Warhammer, circa 1986 (or so)
Another of the 'unseen' metal's from the Ral Partha days, this time the legendary 'Warhammer'.
The Warhammer was perhaps the mech that got me into Battletech in the first place. It's hard to forget the big one plastered on the box…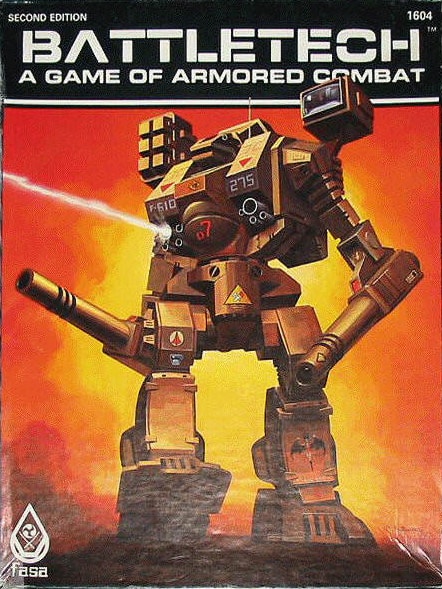 The original box art. This was actually used when Battletech was called Battledroids – before George Lucas came after them!
If you didn't know, the Warhammer was directly 'borrowed' from Robotech, if you look at the image there, you can even still see the SDF logo on the left leg!! Yea, no wonder FASA got sued.
Anyhoo, back to this mini. This is one of two I have that remained intact until the boys found them and the arms and small bits for this one went missing. Luckily, a most excellent chap on the Battletech Redit forum kindly printed me up some new arms, and I substituted a TOW launcher for the missing searchlight.
As with the Locust, and all other metals I have from this period, I wanted to keep the metal showing through – we have enough plastics for full paint and the metal is raaare so I want to parade it. But like the Locust, time and the many paint jobs has not been overly kind to the detailing, which is worn down in some areas. This time around, I kept the paint vary spare, only really painting the resin printed PPCs and bits of detail on the body. Overall, I'm more or less happy with the end result; painting numero two will be interesting.
[love_me]
Copyright 2023 Gerard Thomas. All rights reserved.