Above image: 'sdkfz 251/1'… the original 'non pc' version.
Update:24.3.2023
Recently I undertook an ill-fated trip to the hobby store to find some 1/72 figures for the wee man, who's going through a soldier thing at the moment. Suffice to say that the shop had none, or much of anything to be honest, so it was back home and a trip to Google.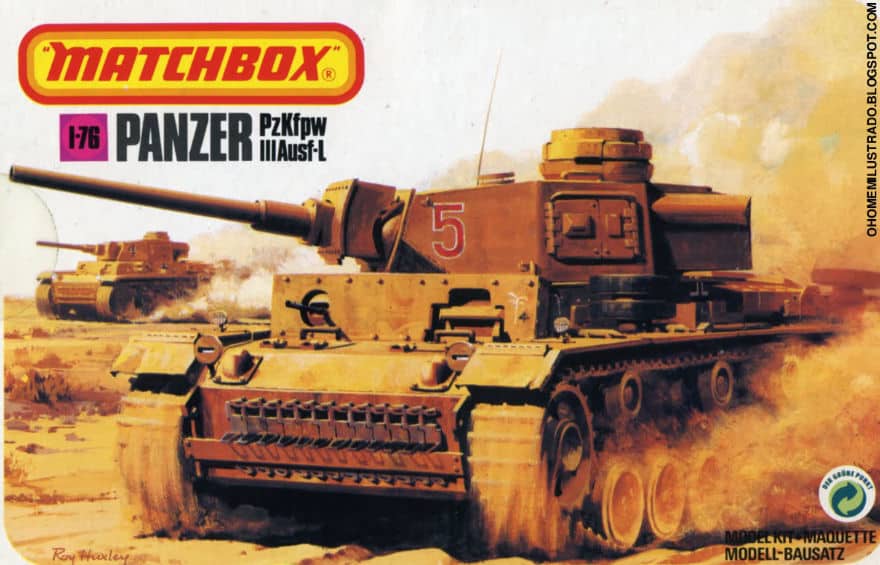 My memories of 1/72 figures were those made by Matchbox and Airfix, and I used to buy them by the truckload when I was a kid; it seems Airfix is still in the game but not so much Matchbox. What I had completely forgot about until that recent search, was the box art that adorned many of the Matchbox kits that I used to buy.
As a kid, it was the illustrations that caught one's eye and for me back then, it was often the Matchbox kits that had the most dynamic illustrations, resulting in winning my pocket money. Through the power of the inter webs, I have since discovered that a lot of Matchbox's box art though the 70's and early 80's was produced by an English chap by the name of Roy Huxley.
Art is one of those things that can easily show its age, often being of a period, or a movement, or even a technique. There are a few artists that I truly admire though who have managed to escape this trap, and their work looks every bit as fresh today as the day it was created. Upon seeing Huxley's images once again, I instantly recognised why his work at the time was so magnetic – it has that ageless 'something'. While I can't put my finger on just what this something is, Huxley's Matchbox art has it in spades.
Maybe it's that his illustrations have all the detail you need, but no more? Maybe it's the composition and slightly commercial feel to them? Or perhaps it's the sometimes almost monotone colour palette? Maybe, it's all of the above?
Whatever the magic ingredient is, Roy Huxley has that special ability that combines the skill of a superb draftsman with a sharp artistic eye. Stumbling on his artwork once again, I can't deny that there is a certain nostalgia attached, I had made a lot of the kits that bore his work. Ultimately though, finding it has been a very refreshing accident, and is now a nice addition to my reference and inspiration collection.
Unfortunately, there's very little information around about Roy Huxley, other than he is still producing aviation art. But if you have a particular 'thing' for model kit box art, Huxley's counterpart at Airfix, Roy Cross, has published several books of his days illustrating for Airfix in the 70's that may be worth checking out.
Update:24.3.2023
Since writing this piece, a new book of Roy Huxley, by Roy himself, has been published by East Anglia Books. With 100+ full colour images, it's sure to be a much needed addition to any fan of his work. 'The Golden Years of Matchbox Art – Roy Huxley' is published by Red Kite Books. See sample pages (in PDF download) here and here and read my short review here
Visit my Pinterest board to see a lot more of Roy Huxley's work here.
Copyright 2023 Gerard Thomas. All rights reserved.